Thursday, March 18, 2021 
6pm-8pm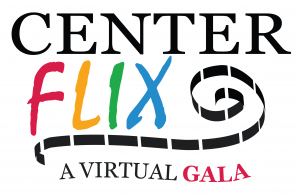 Welcome to The Coordinating Center's 1st ever virtual CenterFlix Gala sponsored by Kelly Cove Mobility (Platinum Sponsor), Amerigroup and Comcast (Gold Sponsors), LifeBridge Health, Corporate Synergies, The Berman–Gara Group, UBS Financial Services, Inc. and Cigna (Silver Sponsors), and other community partners featured on our sponsor link.
Join us virtually on Thursday, March 18, 2021 at 6:00pm for a fun, philanthropic event! Make yourself comfortable in your home while we showcase the impact of The Coordinating Center on the lives of people with disabilities and complex needs. CenterFlix will feature The Center's newest Comcast video, entertainment featuring people with disabilities, silent and live auction, and optional catering by Absolutely Perfect Catering.
CenterFlix benefits the Family Resource Fund, which assists children and adults with disabilities, people experiencing homelessness and housing insecurity, and people with chronic conditions and frequent hospital encounters, many of whom are impacted by social determinants of health, such as food insecurity and unemployment. When clients at The Center could benefit from a helping hand, this Fund is used as a last resort to support critical need requests, items an individual or family cannot live without such as housing, medical equipment/supplies, hearing aids, eye glasses, dentures/dental work, and other items not covered by Medicaid, or other insurance providers.
Guests have the option of purchasing an event ticket only or you may purchase an event ticket with catering. Catering options include a three-course meal for four (4) or six (6) people or dessert only for 10 people. You may choose to have the catering delivered to your home or pick up from one of our designated locations the week of the event. Click the link below to purchase your tickets and optional catering! We hope to see you there.