In Memory of Barbara McCord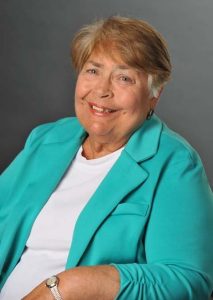 As some of you may already know, today The Coordinating Center family lost one of its most ardent supporters and friend, Barbara McCord. Barbara passed this morning at Hospice of the Chesapeake, after an extended illness.
Many of us knew Barbara as one of the original "founding mothers" of The Center. She was our very first Family Services Coordinator, and later a Care Coordinator. Barbara was our first Director of Communications, lending her brilliant writing skills to every grant application, service proposal, annual report and press release for over 30 years. She was affectionately referred to as "The Village Scribe" for her ability to so clearly and eloquently share the stories and experiences of our clients and their families in a manner that honored their lives, experiences and everyday struggles. As one of the originators of the Family Resource Fund, Barbara shared her passion for making sure clients were able to bridge the gap between public benefits and family needs. She was known to disability advocates for her work on the Medicaid Advisory committee and for representing the needs of those whose voices were not always heard. She was instrumental in building our Board of Directors and in reminding us of the importance of diversity in both our Center family and in our presence in the community at large.
But more than all those titles and accomplishments, Barbara was our moral compass. She was always there to remind us why we were here; of our Mission and Values and what it meant to live by them every day. She encouraged each of us to take on the fight relative to the needs of individuals with special health care needs and disabilities and their families, regardless of the cost, as long as the mission was clear and the values were aligned. Barbara pushed us to take chances; to see that the world needed bold answers to problems involving health inequities and disability rights. When she thought the cause was right, she never wavered in her commitment and deed. For me, and many of us who had the honor to work with Barbara, are now mourning the loss of both a mentor and an amazing friend.
The arrangements for Barbara's memoriam had not been announced as yet but will be shared when available.
Our Deepest Condolences to the McCord Family.
The family has designated The Coordinating Center's Family Resource Fund as a place for charitable giving to honor Barbara. To donate click the link below.