The Family Resource Fund provides clients of The Coordinating Center with financial assistance to purchase items or services that are not covered by Medicaid or Medicare. The fund accepts the following types of requests:
Critical/Safety Need – fund allocation limited to $500 or less for current fiscal year
Housing Stability (rent, security deposit or utilities) – fund allocation limited to $500 or less for one-time only
Quality of Life – fund allocation limited to $300 or less for current fiscal year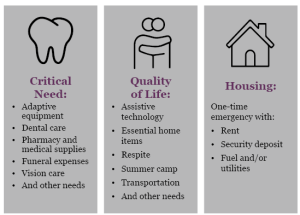 If a client is requesting an item or service that costs more than the allocated amount, the client can choose to pay for part of the cost if possible or the client's coordinator or health coach will try to secure funds from other organizations.
The Family Resource Fund is made possible by the generous donations from friends of The Coordinating Center. Availability of funds are based on the amount of money donated and the number of requests filled per fiscal year.
If you are a client of The Coordinating Center and would like to request funds from the Family Resource Fund, please contact your coordinator or health coach for more information.
Clients Express Their Gratitude
Thank you so much for funding the transit system on Alex's wheelchair. Without this Alex would not be able to do his two favorite things—ride the bus and go to school. We thank you.
Thank you for all your help. If it wasn't for you, I wouldn't have been able to get my medication. I would be in a hospital, nursing home or worse.
We would love to thank you for our beautiful new Hoyer lift. We cannot thank you enough for your thoughtfulness. It's such a blessing to us.
If it wouldn't have been for the financial assistance, I am not sure when my son would have gotten the dental treatment he needed.  I have been unable to work for a while and barely making it with the money I received.  So, I am extremely grateful.