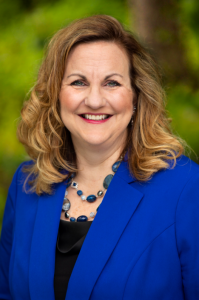 Millersville, Maryland—The Coordinating Center, Maryland's statewide, premier nonprofit care coordination organization for children and adults with disabilities and complex needs, is excited to announce Teresa Titus-Howard, PhD, MHA, MSW, as its next President/CEO. Dr. Titus-Howard will succeed Karen-Ann Lichtenstein, who retired at the end of May after 35 years with the organization.
Dr. Titus-Howard joins The Coordinating Center with more than 25 years of health care delivery experience, with extensive expertise in consumer advocacy, public-private partnerships, policy, payment reform, clinical expertise, and compliance oversight. Recently, Dr. Titus Howard was Vice President, Federal Health Management and Solutions at Telligen, Inc., where she oversaw federal health contracts for the organization.  She is a well-respected leader in the areas of performance measurement and quality improvement, learning and action networks, and healthcare innovation drawing from her prior experience with the Centers for Medicare & Medicaid Services (CMS) where she co-founded the Learning and Diffusion Group for CMS Center for Medicare & Medicaid Innovation Center (CMMI) and led the reorganization of the Quality Innovation Network Quality Improvement Organization (QIN-QIO) program for CMS Center for Clinical Standards and Quality Improvement Group.
"After a comprehensive search process and thorough succession plan, the Board of Directors is pleased to have chosen the best individual to assume leadership of The Coordinating Center," said Tom H. Hall, chairman of The Coordinating Center's Board of Directors. "Teresa has a proven track record of advancing the health care delivery experience, with strong leadership in advancing public-private partnership. This combined with her dedication to community, quality and outcomes management make Teresa uniquely qualified to lead The Coordinating Center successfully into the future."
Photo courtesy of Jason Putsche Photography.