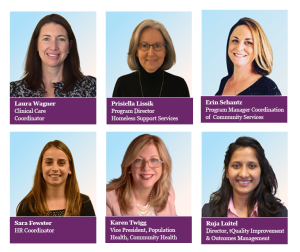 Millersville, Maryland – The Coordinating Center, Maryland's statewide, premier nonprofit care coordination organization for children and adults with disabilities and complex needs is excited to announce the 2021 Compassionate Leadership Award nominees and recipient. The Compassionate Leadership award was created in 2019 and established by The Center's Board of Directors in honor of Karen-Ann Lichtenstein, former President/CEO of The Center for 26 years (with The Center for 35 years).
The Compassionate Leadership Award recognizes an extraordinary coworker not only for their outstanding commitment to the mission and values of The Center, but in the characteristics of compassionate leadership both at The Center and in their daily life.
The six nominees for this year are Laura Wagner, Sara Fewster, Priscilla Lisik, Ruja Luitel, Karen Twigg, and Erin Schantz. Nominees and the winner were announced by a special guest Karen-Ann Lichtenstein, at The Center's virtual Coworker Appreciation event on October 13th, which is held annually in recognition of National Case Management Week and in honor of all coworkers who work tirelessly to support The Center's mission.
"We are pleased to announce that this year's winner is Priscilla Lissik, Program Director, Homeless Support Services. Priscilla has been with The Center for 16 years and has been instrumental in growing The Center's Housing Initiative Program in Montgomery County. Under leadership The Center has become the organization to turn to for some of Montgomery County's most medically vulnerable individuals. Priscilla and her team were steadfast in continuing face-to-face visits with clients throughout the COVID-19 pandemic," said Teresa Titus-Howard, PhD, MHA, MSW, President/CEO, The Coordinating Center.
Ms. Lissik is currently a mentor in The Center's Guiding Professionals to Success (GPS) mentoring program and recently participated in Montgomery County's Continuum of Care Leadership Development Program – Lead for Impact in 2020. Ms. Lissik is a Board Member for Montgomery County Health Partners and is currently under consideration for a commissioner position on the Interagency Commission for Homelessness.
"Priscilla has always embodied the mission and values of The Coordinating Center. She has always showed compassion for both the clients and the coworkers, while allowing them to be autonomous. The clients are the center of Priscilla's focus, and she has always advocated for the most vulnerable individuals, which only made it natural that she be leading the program for homeless individuals. While she has been a strong advocate for clients since the day she started, she has really focused on leading her team over the past few years and has made tremendous growth," said Sharyn King, BSN, RN, CCM, Senior Vice President, Population Health, Care Management and Service Coordination.
About all of the nominees:
Lara Wagner RN, CPN, CCM, Clinical Care Coordinator in REM, has been with The Center for four years. "Laura has been assisting in the orientation of new Clinical Coordinators in REM by voluntarily conducting the REM Assessment training. This training is very instrumental, as the REM Assessment is the initial step in the work done with clients that will ultimately help to establish the case management plan and collaborative goals," spoke Monica Dada LCSW-C, CCM, Team Manager/REM. Laura is active in her community, particularly with her children's school and athletic pursuits. During the COVID‐19 pandemic when additional nursing support was potentially needed for administering vaccines to the public, Laura was eager to volunteer.
Sara Fewster, Human Resource Coordinator, has been with The Center for two years. Sara demonstrates compassionate leadership by always putting the needs and interests of others first. "Sara has designed creative approaches to engaging coworkers. For example, Sara was personally aware of the struggles and frustrations of parenting young children and working remotely this past year. She created, facilitated, monitored, and developed content for the Parent Discussion Group which met biweekly for nearly the entire first year our staff worked remotely with unanticipated and intermittent daycare and school closures due to COVID exposures and illness," said Carol Duvall, Senior Vice President, Human Resources.
Ruju Luitel, Director of Quality Improvement and Outcomes Management, has been with The Center for more than four years. Ruja was instrumental in developing The Center's Business Intelligence System, saving The Center thousands of dollars, studying on her own time to research the capabilities and developed the system in partnership with her coworker, Lane Williams. "Her leadership style has not only transformed the manner in which coworkers perceive quality measurement and performance improvement, but also has elicited a global buy-in within The Center which is propelling us to be a stronger organization that is data driven and impact aware," said Colby Bearch MA-M, MA-SF, BA, RN, CDONA, Chief Operating Officer, The Coordinating Center. In addition to Ruja's self‐directed learning, Ruja is investigating doctoral study and has also committed to complete her Lean Six Sigma Black Belt this year. Ruja participates in external volunteer activities to support The Center's mission and values, including but not limited to the Montgomery County Homeless Population Count and has volunteered at the Polar Plunge.
Erin Schantz, Program Manager, Coordination of Community Services (CCS), has been employed with The Coordinating Center for 11 years and has been promoted, at least two times. "Erin encapsulates the title of servant leader. Firstly, she is ably qualified to do what she currently does, and she uses this academic acumen and other giftings, to model everything that she expects of a coworker. Erin is gentle, focused, soft spoken and competent," stated Pamula Mills, Ph.D., Director, Coordination of Community Services. Erin was instrumental in getting the CCS/DDA program off the ground. Using her compassion and experience in the Autism Waiver to deliver an exceptional model of care for clients benefiting from Maryland's Developmental Disabilities Administration (DDA) program and waivers. Erin is committed to learning and professional development and has participated in The Center's leadership program and is currently in the Guiding Professional for Success, GPS program. Erin is involved in activities with other parents with young children, organizing camping trips. She is heavily involved in the school system, for professional and personal growth.
Karen Twigg MSM-HCA, BSN, RN, CMCN, Vice President of Population Health and Community Health, has been with The Center for two Years and was recently promoted from Assistant Vice President to Vice President. Karen has presented and received recognition for her development of innovative programs targeting avoidable readmission reduction, improving provision of quality care, and aligning patient advocacy with fiscal accountability. Ms. Twigg is involved in various healthcare‐related associations and Boards. She currently serves as Secretary, of the Board of Directors for Corsica River Mental Health Services, Inc., the Board Member and Finance Committee Chair for the Maryland DC Society of Healthcare Risk Managers (MD DC SHRM) Board and serves on the Education Committee for Maryland Chapter American Case Management Association and the Education and the legislative Committee for the Maryland Rural Health Association.
Fay Alexander MHR, CCHW, Community Health Worker, VIPhysicians&Kids says, "Karen offers encouragement when needed, she pushes (in a good way!) people to grow and think in other ways, and she supports the needs of her team members and the goals that they have for themselves. If criticism is needed, it is always done in a constructive way and it doesn't feel like criticism."
###
About the Coordinating Center
Founded in 1983 and headquartered in Millersville, Maryland, The Coordinating Center is a statewide, nonprofit organization that provides care coordination services for more than 10,000 children and adults with complex medical needs and disabilities and their families. The mission of The Center is to partner with people of all ages and abilities and those who support them in the community to achieve their aspirations for independence, health, and meaningful community life. Visit www.coordinatingcenter.org for more information.