December 19, 2022 – FOR IMMEDIATE RELEASE
Media Contact: Renee Dain, SVP, Strategic Partnerships and External Affairs, 410-987-1048
Millersville, Maryland—The Coordinating Center, Maryland's statewide, premier nonprofit care coordination organization for children and adults with disabilities and complex needs, is excited to announce that The Coordinating Center has been selected for Mogul's Top 100 Companies with Inclusive Benefits in 2022! The Coordinating Center joins Comcast NBC Universal, DoorDash, Liberty Mutual Insurance, UNICEF USA, Xerox Corporation, and 94 additional companies who are making an impact in Diversity, Equity, Inclusion and Belonging in the workplace. Read the full list here. 
"Mogul is honored to celebrate the diversity and inclusion initiatives that these companies have developed and continue to foster. They have made enormous strides in implementing progressive practices, hiring diverse talent, placing more value on work-life balance, creating welcoming environments and communities for employees, and improving workplace standards worldwide."
Mogul's Top 100 evaluation process evaluates companies based on the following criteria: diversity hiring and advancement practices, inclusive company benefits and progressive workplace resources.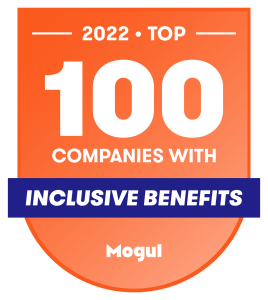 The Coordinating Center is an equal opportunity employer that offers an environment for coworkers to grow both professionally and personally. "We recognize that company benefits are an important part of our coworker's overall compensation and aim to provide coworkers with access to the highest quality benefits. We are also passionate about embedding Diversity, Equity, Inclusion and Belonging (DEI&B) into everything we do for our coworkers, and this is exemplified in our benefit offerings. For example, we offer a Religious Accommodations Policy for holy days, recognize Juneteenth as a paid holiday and when sourcing providers for our coworkers, careful consideration is taken to ensure that coworkers will have equitable access to providers across the state of Maryland," said Dr. Teresa Titus-Howard, President and CEO, The Coordinating Center.
The Coordinating Center's DEI&B Coordinator, Dianne Edwards-Barnes is partnering with coworkers and the Board of Directors to create a culture where DEI&B is not a checklist, but rather fully integrated part of the workforce culture.
"We maintain a zero-tolerance policy on bullying, harassment, and discrimination. We have instituted reasonable accommodations in the workplace and for clients to ensure equal access to services. We pursue cultural competency through substantive learning opportunities and formal, transparent policies and have integrated gender-neutral and anti-ableist language in policies and practice. All coworkers receive annual training on DEI&B (e.g., unconscious bias, microaggressions) and our leadership is focused on sourcing diverse talent and promoting a culturally diverse pipeline," said Ms. Edwards-Barnes.
*****************************************************************************************
Founded in 1983 and headquartered in Millersville, Maryland, The Coordinating Center is a nonprofit organization that provides care coordination for individuals with complex medical needs and disabilities and their families.
At The Coordinating Center we aim to dismantle inequalities within our policies, systems, programs and services by embracing Diversity, Equity, Inclusion and Belonging (DEI&B) and leading with respect, acceptance and compassion. It's what makes us exceptional in achieving our mission and drives us to deliver culturally competent and effective care coordination services. We believe we are stronger together.
Visit www.coordinatingcenter.org for more information.