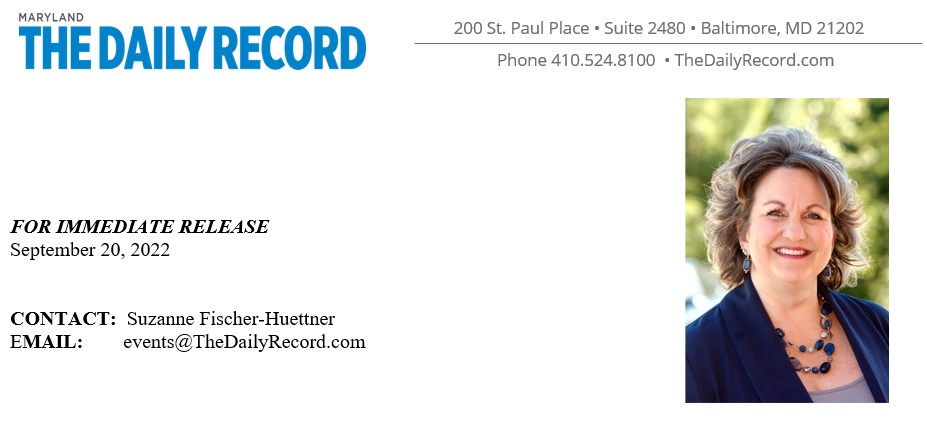 Baltimore (September 20, 2022) — The Daily Record has named Teresa Titus-Howard PhD, MHA, MSW President and Chief Executive Officer, The Coordinating Center one of Maryland's 2022 Most Admired CEOs.
Most Admired CEOs honors talented business CEOs, higher education leaders and nonprofit executive directors throughout Maryland whose leadership and vision are admired by those around them. A panel of judges selects these winners based on professional accomplishments, community service and the letters of references submitted by co-workers, board members and community leaders showing the CEOs leadership and vision. Three-time winners are inducted into the Circle of Leadership.
Gina Abate from Edwards Performance Solutions was named to the Circle of Leadership. A listing of all the winners is below.
"The 2022 Most Admired CEOs are leading the way in unprecedented times and are developing a culture of innovation resulting in continued growth. In addition, they mentor the next generation. These CEOs are leaders we all want to emulate," said Suzanne Fischer-Huettner, senior group publisher of The Daily Record. "Being a CEO today is a tremendously challenging job, and we at The Daily Record congratulate this year's honorees for all their accomplishments."
The winners will be honored Nov. 3 at the Hilton Baltimore BWI Airport, 1739 W. Nursery Road in Linthicum Heights. Food stations, drinks and networking start at 4:30 p.m., with the awards celebration at 5:30 p.m. followed at 6:30 p.m. with dessert, drinks and networking. Access to the celebration is limited to honorees and sponsors. Sponsorship includes a table for guests, multimedia marketing, logo usage and more. To secure a sponsorship, contact Suzanne Fischer-Huettner at shuettner@bridgetowermedia.com. The event hashtag is #TDRevents.
If space is available, a limited number of individual tickets will be offered after sponsorships close.
Winners will be profiled in a special magazine that will be inserted into the Nov. 4 issue of The Daily Record and will be available online at TheDailyRecord.com.
Celebration Sponsors are Epsilon Registration and Towson University.
For more information and updated sponsorship information about The Daily Record's 2022 Most Admired CEOs, visit www.TheDailyRecord.com.
About The Daily Record
The Daily Record is a digital first, daily newsroom with frequent updates on business and law at TheDailyRecord.com. The Daily Record publishes a print edition on weekdays in addition to more than 25 special products a year including Power Lists ranking the key people in Maryland in a variety of industries, Doing Business in Maryland, Way to Be and Expanding Opportunities. It also focuses on women business leaders with Women's Perspectives, including a monthly podcast, webinar series, every-other-week email newsletter and a special quarterly print content package along with Maryland's Top 100 Women, Leading Women and Women's Leadership Summit events. The Daily Record hosts 11 annual events to recognize excellence and provide leadership opportunities. These events include Most Admired CEOs, Influential Marylanders, Health Care Heroes, Icon Honors and more. The Daily Record also facilitates monthly webinars bringing local experts from the business community together to discuss current topics and trends. Its Digital Marketing Solutions helps customers with social media, search engine marketing and optimization, retargeting, email marketing and more. The Daily Record, with 134 years of editorial excellence, is part of BridgeTower Media, one of the country's leading business-to-business media companies with more than 40 print and digital publications in more than 25 U.S. markets.
2022 Most Admired CEOs

***Indicates Circle of Leadership inductee
Government
Mike Gill, Maryland Department of Commerce
Troy LeMaile-Stovall, TEDCO
Higher Education
Kim Schatzel, Ph.D., Towson University
Nonprofit with less than $10 million in annual revenue
Nina Basu, Inner Arbor Trust Inc.
Al Hutchinson, Visit Baltimore
Martin Rosendale, Maryland Tech Council
Martin Schwartz, Vehicles for Change

Nonprofit with more than $10 million in annual revenue
Victoria Bayless, Luminis Health
Kevin Drumheller, Richcroft Inc.
Lynn O'Connor, MSA, LNHA, CASP, CMDCP, Ingleside
Bradley Schlaggar M.D. Ph.D., Kennedy Krieger Institute
Sheldon Stein, Mt. Washington Pediatric Hospital
Teresa Titus-Howard PhD, MHA, MSW, The Coordinating Center

Private company with 50 or fewer employees
LaKeita Carter, Institute for Healing LLC
Elizabeth Caulder, THE PHOENIX Lifestyle Marketing Group
Shawn Noratel, Liquified Creative LLC
Kwabena Osei-Sarpong, RIFE International
Gregory Proctor Jr., G.S. Proctor & Associates Inc.
Private company with 51-149 employees
***Gina Abate, Edwards Performance Solutions
Kim Groves, KCW Engineering Technologies LLC
Wes Guckert, PTP, The Traffic Group Inc.
Private company with 150-499 employees
Marty Janis, Atlantic Parking
Josh Levinson, Charm City Run
Steven Linkous, Harford Mutual Insurance Group
Creig Northrop, Northrop Realty
Elizabeth Rendon-Sherman, LG-TEK

Private company with more than 500 employees
Bob Barry, ZIPS Franchising LLC/ZIPS Cleaners
Carim Khouzami, BGE, an Exelon Company
Kevin Sowers, Johns Hopkins Medicine

Public company with more than $500 million in annual revenue
Christopher Ripley, Sinclair Broadcast Group
Carissa Rodeheaver, First United Corporation and First United Bank & Trust