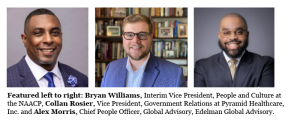 October 1, 2022 – FOR IMMEDIATE RELEASE Media Contact: Renee Dain, SVP, Strategic Partnerships and External Affairs, 410-987-1048, ext. 2350
Millersville, Maryland – The Coordinating Center, Maryland's statewide, premier nonprofit care coordination organization for children and adults with disabilities and complex needs is excited to announce the appointment of four new Board Members.
"I am thrilled to announce that The Coordinating Center's Board of Directors has appointed Bryan Williams, Collan Rosier and Alex Morris for a three-year term, beginning October 1st," said Teresa Titus-Howard, PhD, MHA, MSW, President and CEO of The Coordinating Center.
Mr. Bryan D. Williams, MBA serves as Interim Vice President People and Culture for the National Association for the Advancement of Colored People (NAACP) where he is responsible for operational and strategic workforce planning, benefits and pension administration, performance management, training, and employee relations for the Associations' national headquarters.
"I am looking forward to serving as a board member of The Coordinating Center with great enthusiasm, passion, creativity, and expertise. I strongly believe the opportunity afforded to me as a board member; along with fellow board member partnership will further enhance the support of The Coordinating Centers' People and Culture, Mission and Values," said Mr. Williams. "It's not how much we give but how much love we put into giving."
~ Mother Teresa
Mr. Williams has over 20 years of experience in Human Resources (HR) Management and has held positions in HR Management and leadership within the for-profit and nonprofit sectors, including the Brighter, Stronger Foundation, Destination DC, Nonprofit HR, Toyota Financial Services. and CitiFinancial Citigroup, Inc. Mr. Williams has participated in community outreach initiatives including Habitat for Humanity, East Social Action Food Drive Program, Susan G. Komen for The Cure and Earth Day. He holds a Masters of Business Administration (MBA) with a specialization Human Resources Management from Strayer University; and Bachelors of Science in Business Administration Management from the University of Baltimore. Mr. Williams also holds Certificates in Professional Human Resource Management from Howard Community College, University of Maryland Baltimore County and Montgomery Community College Workforce Development Program and is a member of the Society for Human Resource Management (SHRM) and the National Black MBA Association, Inc. Mr. Williams resides in Baltimore, Maryland.
Mr. Collan Rosier is the Vice President of Government Relations for Pyramid Healthcare, Inc., where he leads all federal, state, and local legislative and regulatory efforts across the company. He is an experienced government relations executive who has been providing strategic solutions at the intersection of business, public policy, and healthcare for more than a decade.
"Throughout my career, I have strived to expand access to care for complex and vulnerable patient populations across all facets of people's health. I'm thrilled to join the board to continue to expand those efforts and support the incredible work being done every day by the Coordinating Center's caregivers, team members, and leadership," said Mr. Rosier.
Prior to joining Pyramid Healthcare, Mr. Rosier created and led the national government relations function for a fully-transparent, 100% pass-through pharmacy benefit management (PBM) company and its in-house specialty pharmacy. He has also led advocacy efforts across 14 states and oversaw a community-based care management program for a national home healthcare company. His career began in corporate governance and regulatory affairs for an appellate litigation and strategic counseling firm. Mr. Rosier received a master's degree in legislative affairs from the Graduate School of Political Management (GSPM) at the George Washington University and his Bachelor of Arts, cum laude, in government and history from Georgetown University. Mr. Rosier is an active member of St. Paul Lutheran Church in Annapolis where he serves on the Church Council and is the former Operations Director for the Society of Health Policy Young Professionals (SHPYP). He and his wife live in Annapolis, Maryland.
Mr. Alex Morris, MBA has been with Edelman Global Advisory since July 2021 and serves as Chief People Officer, Global Advisory. Mr. Morris has nearly 30 years of management and leadership experience in Human Resources, in all business sectors (nonprofit, for-profit, government).
"I am absolutely thrilled to join such an incredible organization, whose Mission and Vision so perfectly align with me personally and professionally. Collaboration, Integrity, Equity & Inclusion are key tenets of my ethos, and I will bring my 30 years of Human Resources experience to compliment the bright, passionate, and empathetic servant-leaders that make up the current Board," said Mr. Morris. "The best way to find yourself is to lose yourself in the service of others." ~ Mahatma Gandhi
Previously, Mr. Morris served as the Senior Director, HRBA, US Programs, SCAN, Head Start, and Domestic Emergencies at Save the Children US, prior to which, he was the Executive
Director Human Resources at The Children's Guild. Mr. Morris has experiences with working in healthcare (Corporate Director of Human Resources at Nexus Health Systems and with veterans (Human Capital Project Manager at the Department of Veterans Affairs). Prior to working in HR, he was a Police Officer in Prince George's County. Mr. Morris has his MBA from Bowie State University and attended Mount St. Mary's University and Bowie State University prior to pursuing his MBA and is a member of the Society for Human Resource Management (SHRM). Mr. Morris serves as President, Music Boosters President, Music Boosters at Elizabeth Seton High School and previously served as Human Resources Executive Board Member at Young Ladies of Tomorrow, Inc. where he provided legal compliance guidance, strategic planning, management coaching, and diversity training and volunteered at Hospice of the Chesapeake. Mr. Morris and his wife live and worship in Bowie, Maryland with their three children. He enjoys reading, playing chess with his kids and golf with his friends.
"Bryan and Alex bring significant experience in Human Resources and Diversity, Equity, Inclusion and Belonging in the workplace, which are invaluable assets to have on our Board, especially with the changing landscape of the workforce post-pandemic. Collan's expertise in navigating the intersection of business, public policy, and healthcare is timely for The Coordinating Center as we are in the midst of a strategic planning process, which will require thoughtful leaders to help guide The Coordinating Center's direction over the next few years. I'm confident that with their knowledge and expertise we will further our mission, to partner with people of all ages and abilities and those who support them in the community to achieve their aspirations for independence, health, and meaningful community life," said Dr. Titus-Howard.
ABOUT THE COORDINATING CENTER
Founded in 1983 and headquartered in Millersville, Maryland, The Coordinating Center is a statewide, nonprofit organization that provides care coordination services for more than 10,000 children and adults with complex medical needs and disabilities and their families. The mission of The Center is to partner with people of all ages and abilities and those who support them in the community to achieve their aspirations for independence, health, and meaningful community life.
At The Coordinating Center we aim to dismantle inequalities within our policies, systems, programs and services by embracing Diversity, Equity, Inclusion and Belonging (DEI&B) and leading with respect, acceptance and compassion. It's what makes us exceptional in achieving our mission and drives us to deliver culturally competent and effective care coordination services. We believe we are stronger together.