October 25, 2022 – FOR IMMEDIATE RELEASE
Media Contact: Renee Dain, SVP, Strategic Partnerships and External Affairs, 410-987-1048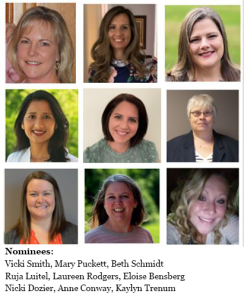 Millersville, Maryland – The Coordinating Center, Maryland's statewide, premier nonprofit care coordination organization for children and adults with disabilities and complex needs is excited to announce the 2022 Compassionate Leadership Award nominees and recipient. The Compassionate Leadership award was created in 2019 and established by The Coordinating Center's Board of Directors in honor of Karen-Ann Lichtenstein, former President/CEO of The Center for 26 years (with The Center for 35 years).
The Compassionate Leadership Award recognizes an extraordinary coworker not only for their outstanding commitment to the mission and values of The Coordinating Center, but in the characteristics of compassionate leadership both at The Coordinating Center and in their daily life.
The nine nominees for this year are Vicki Smith, Mary Puckett, Beth Schmidt, Ruja Luitel, Laureen Rodgers, Eloise Bensberg, Nicki Dozier, Anne Conway, and Kaylyn Trenum. Nominees and the winner were announced by a special guest, Karen-Ann Lichtenstein, at The Coordinating Center's Coworker Appreciation event on October 24th at the BWI Hilton.
"We are pleased to announce that this year's winner is Laureen Rodgers, LCSW-C, CCM, Team Manager, REM Program. Laureen has been with The Center for nine years and has served as the REM Bronze Team Manager for the past four years. Laureen is a Board Member of the CMSA – Chesapeake Chapter, where she actively participates in planning educational conferences and events that many of our coworkers take part in. She is also an advocate for work-life integration and was recently published in CMSA's National Blog," said Teresa Titus-Howard, PhD, MHA, MSW, President/CEO, The Coordinating Center.
Laureen is committed to The Coordinating Center's growth and serves on its Strategic Planning Committee, as well as an internal subcommittee working to improve orientation and ongoing learning opportunities for coworkers. Laureen's team reports she is "loyal, patient and dedicated to the mission, her team and to our clients." She is also "a strong proponent of acknowledging accomplishments of her team members and her peers. On her watch, no accomplishment is unacknowledged." Laureen is a forward thinker. She was the first Team Manager to successfully record a training on Health Care Transitions that is now deployed to new coworkers and will soon be deployed program wide as a refresher training. Laureen's team states, "she is always present and available to brainstorm and think through problematic issues, both professionally and personally. She holds the team accountable by providing tools they need to succeed and is always willing to do tasks she asks of other."
About the Nominees:
Vicki Smith, RN, CCM, Clinical Care Coordinator with the REM Program has been with The Coordinating Center for eight years. Vicki is a Registered Nurse, specializing in pediatrics and certified in case management. Her team reports that "Vicky goes above and beyond for others. She is very professional, always follows through and is very supportive of families. You can call her at any time, with any question and she will always get back to you with a solution." Vicki is currently a mentor in the REM program for new coworkers and provides training to new coworkers on the development of case management plans.
Ruju Luitel, Director of Quality Improvement and Outcomes Management, has been with The Center for more than five years. Her colleagues report that "Ruja leads by example and sets a very high standard. Ruja's passion for her work goes well beyond the spreadsheets, data sets and information gathering that's a big part of her day. She demonstrates deep interest in the individuals served, shows compassion for the challenges faced and shows joy when challenges are overcome by the people we serve." Ruja uses her patience and intelligence to provide free tutoring for students in community college and through her community group. Ruja also works with a local organization helping families in need connect to community resources, including food thru food banks.
Mary Puckett, LCSW-C, CCM, Clinical Care Coordinator with the REM Program has been with The Coordinating Center for more than twelve years. Mary Puckett's team reports that she "cares for her clients on a holistic level. She recognizes when her clients and their caregivers are in need of more than a clinical coordinator. She's the backbone of the team. Mary is the person you call when all else fails, and inevitably, she has the answer you need." Mary has a passion for making all things better. Over the past year, Mary has restored antique furniture in her spare time and recently donated a portion of proceeds from a furniture sale to The March of Dimes. She has also participated in The Center's #TCCInAction program, volunteering with other coworkers at BARCS.
Nicki Dozier, LCSW-C Social Work Consultant with Community First Programs has been with The Coordinating Center for four years. Nicki's team reports she "embraces diversity of thought through collaboration with leaders and coworkers at all levels. She seeks to understand their ideas, thoughts, and opinions in order to expand and develop her leadership skills to meet the needs of the organization. She recognizes that looking at things from others' perspectives can further fuel her personal and professional growth." Nicki's volunteer efforts and contributions with the American Legion Auxiliary have had a positive impact on the community. She has helped raise funds at their weekly bingos for various charities such as Warrior Canine Connection, horse rescue centers, children's school supplies, hospitalized children's pajamas, families who have lost their homes to fires and The Coordinating Center's Family Resource Fund.
Anne Conway, Director, Health Plan and Hospital Services has been with The Coordinating Center for two years. Anne's team reports that her "gentle spirit, compassionate nature, and thorough work ethic enable her to nurture those she is leading, while encouraging them to grow and become independent. She is quick to listen, assumes positive intent, and always goes the extra mile when it comes to The Coordinating Center. Anne lives and breathes her philosophy of "it takes a village," whether that be in her interactions with coworkers and external partners or with clients and their families. Family is HUGE to Anne! She supports her teams in their work life balance so that they can be there for their families enjoying life's sweetest moments!"
Beth Schmidt, RN, BSN, Clinical Care Coordinator with the CARES Program has been with The Coordinating Center for almost two years. Her team reports that "you cannot help smiling every time you interact with Beth as she is one of those people who exudes genuine warmth, kindness, and happiness combined with a wicked sense of humor. Beth can find the silver… and the gold… linings in any situation. She models this behavior consistently in formal and informal meetings, setting a tone of professionalism balanced with "personsalism." Beth is active with her children in their 4H activities and is an active participant at her church.
Eloise Bensberg, Director, Accounting and Finance has been with The Coordinating Center for over five years. Eloise's colleagues report that she "finds the strengths in coworkers and makes it a point to bring attention to their strengths. She provides coworkers with positive affirmations in each meeting and conversation. Eloise recognizes that although money is what drives a business and managing a budget for a program is critical to the program and agency's success, there are real clients behind the numbers and that success is not always monetary." Eloise is an active member of The Coordinating Center's Fundraising Committee, always advocating for the promotion of the Amazon Smile program to help increase revenue for The Center's Family Resource Fund. She is also very talented singer and participates in her local community choir, brining joy to others through her vocal talents.
Kaylyn Trenum, Team Manager with Community First Programs has been with The Coordinating Center for two years. Prior to The Coordinating Center, she was a member of the United States Army. "Kaylyn is always present for our team, both to assist with guidance for our position, as well as to provide emotional support when needed. She provides a safe space to voice concerns without judgement or fear of repercussions. She emits The Coordinating Center's goal of acceptance and compassion for team members." Kaylyn is also active in the community. She is working on becoming an advocate for the rights of persons with addictions and enjoys volunteering with her children. She recently volunteered with her children to plant flowers and clean up the streets through the "Let's beautify Cumberland" initiative.
# # #
Founded in 1983 and headquartered in Millersville, Maryland, The Coordinating Center is a nonprofit organization that provides care coordination for individuals with complex medical needs and disabilities and their families.
Commitment to Diversity, Equity, Inclusion and Belonging: At The Coordinating Center we aim to dismantle inequalities within our policies, systems, programs, and services by embracing Diversity, Equity, Inclusion and Belonging (DEI&B) and leading with respect, acceptance and compassion. It's what makes us exceptional in achieving our mission and drives us to deliver culturally competent and effective care coordination services. We believe we are stronger together.
Visit www.coordinatingcenter.org for more information.